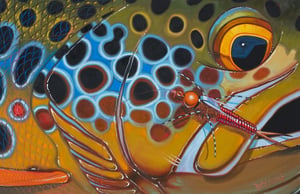 $

180.00
Brown Trout "Rubberlegs" by Derek DeYoung is a Giclee Print, A great way to get the art you want but then customize with the frame or treatment that you prefer.
Available in sizes 17 x 22″ on fine art paper. All prints come signed and numbered in a limited edition of 150 prints per painting. They will arrive mounted on foam core, and sealed in a cellophane sleeve. Made in the USA.
All proceeds from your donation go to Utah Stream Access Coalition to support the mission of the organization. These items are GIFTS, to thank you for your donation. There is a limited quantity of the prints.
* Please Note: USAC is a 501(c)4 and donations are not tax deductible.