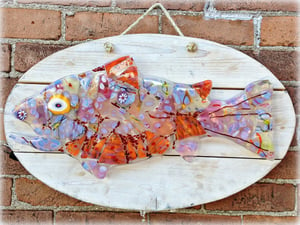 $

400.00
Fused Glass Fish by MJ Glassworks. This fish is made from recycled blown glass and is approximately 20" long. It is mounted barn wood and back-lit with neon light making it perfect for a patio or deck. All fish MJ Glassworks fish are numbered and signed.
Make sure to see multiple images of this piece.
All proceeds from your donation go to Utah Stream Access Coalition to support the mission of the organization. These items are GIFTS, to thank you for your donation. There is a limited quantity of this fused glass fish.
* Please Note: USAC is a 501(c)4 and donations are not tax deductible.