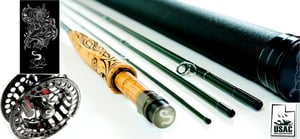 $

750.00
Fish Totem is considered a symbol of life and success a symbol of trinity. The fish represents movement and change. The Totem Fish moves with the water and they posses the qualities inherent in all creatures that make their home under water. The water is seen as the element of deep human consciousness and clearer understanding of the self. Fish Totem signify deeper awareness and higher consciousness. Wrap around the rod from shapes to image of stream and flow shadow abstract shapes of life "Fish" Each shape from life and rocks in a stream forms into one fish riding along the handle.
Designed for: Utah Stream Access Collation
Rod: St Croix 9" 5wt
Color: Dark Green
Thread : Green with silver metallic trim
Design By: SoulRiver - Chad Brown
Make sure to see multiple images of this rod and reel combo.
All proceeds from your donation go to Utah Stream Access Coalition to support the mission of the organization. These items are GIFTS, to thank you for your donation. There is a limited quantity of this rod and reel combo.
* Please Note: USAC is a 501(c)4 and donations are not tax deductible.